Irish Beth Maddock ~ Owner / Certified Feline Specialist
Irish has been in business serving Calgary cat owner's since May of 2008, however, she has been in the business of caring for cats her entire life. She has an innate sense of seeing things from the perspective of a cat, and hence can read each kitty's personality and determine their needs which can be respected.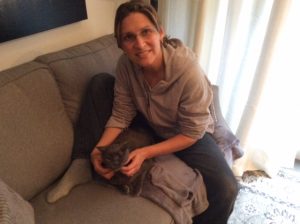 Loving and giving to those who cannot speak for themselves, particularly animals, is ingrained in Irish's nature. She also has a Gerontology background and has a special heart to serve our seniors. In particular, Irish wants to do what she can to help our elderly keep their cat's residing with them for as long as possible. Ask Irish about special cat care discounts offered to seniors and person's with disabilities.
Though Irish has now semi-retired from full time professional cat sitting after 12 years, she is still serving a limited number of clients within her outer NW neighbourhood.
When Irish is not caring for her brood of cats, (or others), she enjoys writing on the side with her company, Write MEOW! Ink. Irish is the 9 time award winning children's author of "The Great Carp Escape" ~ An inspirational fish "tail" based on a true story. Visit http://irishbethmaddock.com for more information. Read Irish's most recent story publication in Chicken Soup for the Soul's "Life Lesson's from the Cat" (May 2019).
Tanis W. ~ Cat Nanny / Cat Care Associate (Note: Currently Not Available For Cat Care Until Further Notice)
Tanis, an avid cat lover extraordinaire, has a tremendously kind spirit and sensitive heart for cats. She also has experience dealing medically with pets. Tanis not only serves as a careful, dedicated cat nanny, but she has been a long term client of the Cat Nanny Calgary herself! Though she works as a full time professional in the Calgary Health Region, she takes time out of her busy schedule to assist any of her special cat care clients in her immediate inner SW area of Calgary. Her dear, handsome kitty named Marvin doesn't mind sharing Tanis just a little!
Natasha U. ~ Cat Nanny / Cat Care Associate
Ever want to meet a beautiful soul with a big heart on their sleeve? Natasha is such a one. Empathetic to the core, Natasha is a qualified, professional caregiver to our senior citizens and has recently been awarded a certificate with honours as a newly qualified Addictions and Community Services Worker. Yet Natasha's heartfelt love for her fellow man is easily transferred to all creatures great and small. She too has a pack of pets of her own, so being a cat nanny outside the hours of her current profession is as natural as Natasha is herself. If you require cat care in the northwest area of Calgary, Natasha will do her best to accommodate you.
Eden M. ~ Cat Nanny Jr.
Since she was born, Eden has grown up around many cats and foster cats. Felines are attracted to her joyful presence instinctively and she in turn has developed a very special heart for kitties. Learning the ropes bit by bit, Eden often accompanies her mama, Irish to help with cat care at client's homes as a Cat Nanny Jr. Cat huggles, cuddles and snuggles (not to mention play time) are her specialty!